What do Sierra Leone and Louth have in common?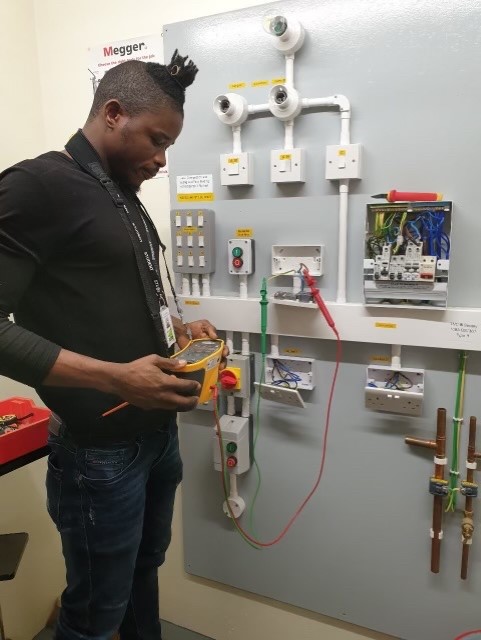 Words kindly provided by Platform Housing Group
You wouldn't be far from the truth if you said 'not much', but there is one thing that they do have; they have both been the home to one of Platform Property Care's Electrical Apprentices, Balogun Metzgur.
Balogun, who combines his apprenticeship at Platform Property Care with studying at Boston College, has always had an interest in electrical work, so much so that after he finished his Year 12 exams, he enrolled at the Electrical Institute in his hometown of Freetown in Sierra Leone.  Back then the training was very theoretical and it wasn't long before Balogun decided that the course wasn't for him. His uncle was a police inspector and had always encouraged him to join the police force; so he joined up and served for 8 years in the special branch.
Fast forward to 2015; Balogun arrives in England and is employed as a kitchen porter. He then takes up a role as a carer, working with a variety of people with special needs, including autistic children, people with learning difficulties, dementia and cerebral palsy.  Balogun said, "I really enjoyed my work as a carer; I had great empathy with the clients and we often had a good laugh!  However, after a while, I began to think that caring was a bit limited for me and started to think what else I could do. I was still interested in electrical work; I heard about apprenticeships and thought this could be the perfect opportunity for me."
Things then started moving quickly for Balogun! He wrote a CV, saw an advert for electrical apprentices within PPC, was offered an interview and then the job! He moved from the south east to Louth in March 2018 to take up the role. He said, "I was so thrilled and delighted!"
And it's only got better! Balogun explained, "My job entails travelling from home to home repairing a variety of electrical faults and issues. One of the most important parts of my job is customer safety and respecting their homes. I like my job because every day is different and most have plenty of electrical challenges! I also like interacting with customers.
"I really like the fact that Platform puts an emphasis on the welfare of young children and adults within the environment I work in. Secondly, everyone is treated equally and thirdly, the support I have had has been outstanding."
Balogun studies at Boston College; the College recently recognised us in a special awards scheme, crowning us the winner of The Employer Special Recognition Award.
Balogun concluded, "When it comes to career aspirations, I'd like to complete my apprenticeship in the best way possible. Beyond that, I would like to look for training opportunities within the Group or openings that would give me more responsibilities.
"What I would say to someone looking to join Platform is that they should be assured that whatever your age, background or gender, they will give you their total and generous support. I have learnt that Platform value knowing what's on your mind and really encourage people to share the good – and the bad! I have always found that whenever I have approached my manager or colleagues with any issue, I have always been given a fair hearing and been treated with real respect."
Balogun's fabulous attitude to his job often sees him going the extra mile. He said, "On one occasion we got a call to visit an older lady's home as she was complaining about a buzzing noise in her property. After a thorough inspection, we couldn't identify any electrical faults or any buzzing noises. We realised that the lady had a problem with her hearing; we were careful and polite in the way we handled this as she was clearly vulnerable and needed support. We reassured her that the house was safe and signposted her to receive the appropriate help for her hearing problem."
We wish Balogun all the best in his career with PPC!
Interesting fact about Balogun? in his early teens he developed a keen interest in becoming a DJ and did a few sessions on his local radio station.