Students urged not to "play Russian roulette" with deadly asbestos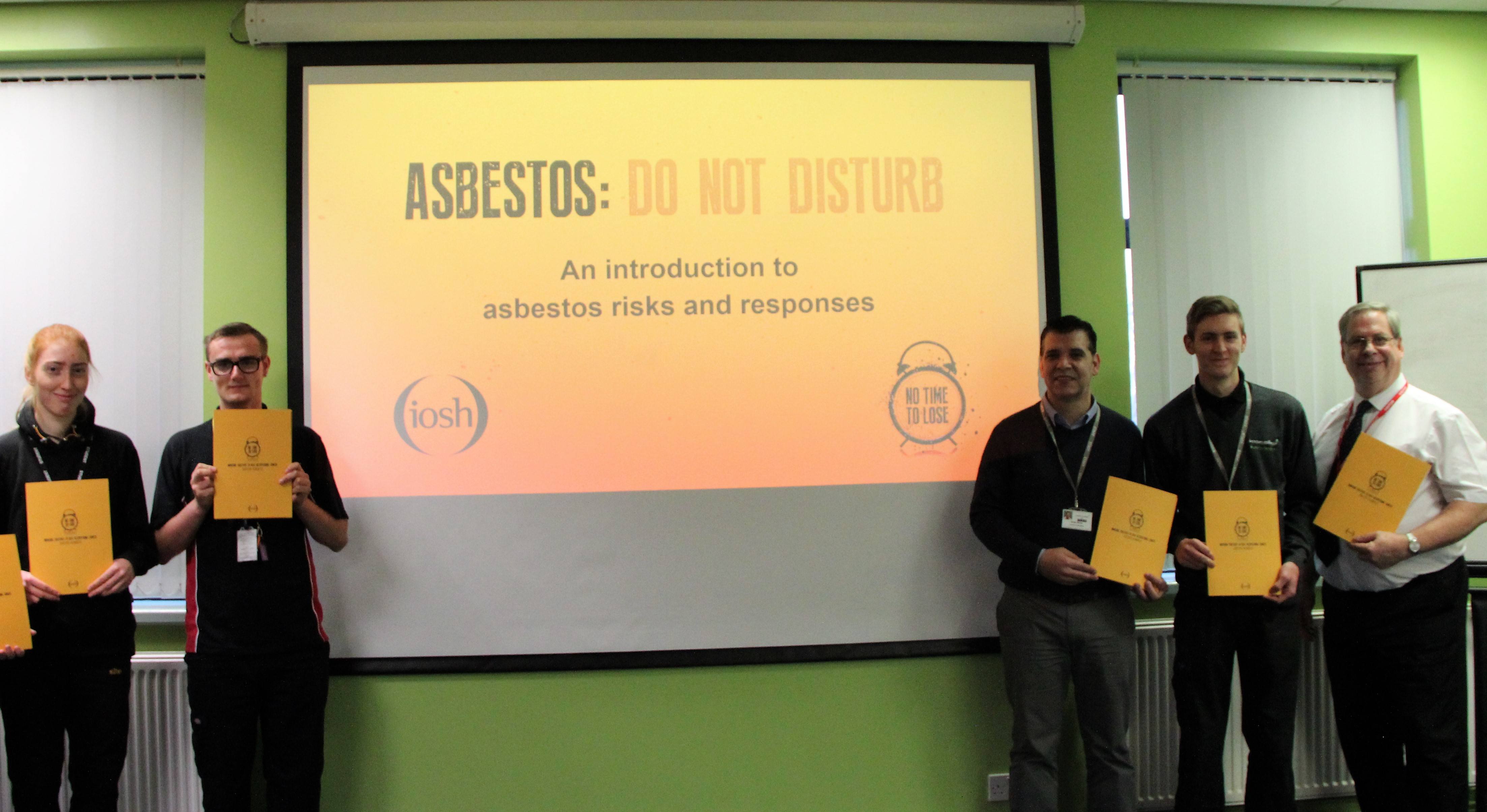 Students from construction-related courses have been warned breathing in asbestos fibres is like "playing Russian roulette" with their lives.
About 100 young tradespeople from Boston College heard about the devastating impact asbestos exposure can have from Philip Baker, an ambassador of No Time to Lose, the Institution of Occupational Safety and Health's (IOSH) occupational cancer campaign.
Mr Baker urged the youngsters, who are studying courses including plumbing, carpentry and bricklaying, to be aware of whether there is a risk of them disturbing asbestos when they start work on a site – and to insist their employers take preventative measures. Inhaling the near-invisible asbestos fibres can cause damage deep inside lungs and other soft tissues leading to deadly cancers like mesothelioma decades later.
"If you breathe in asbestos, you are effectively playing Russian roulette with your life because there's a chance you will get terminal cancer later in life," Mr Baker told the students. "Make no mistake, asbestos is a killer."
Each student was provided with free resources which IOSH has produced as part of its campaign. These include information on where asbestos can be found and what workers should do if they believe they may have disturbed it.
Asbestos-containing materials only pose a threat if they are disturbed or begin to decay – but workers making alterations to buildings or fixing pipes in floors, walls and ceilings are more likely than most to disturb asbestos fibres if they're there, meaning tradespeople are among those most at risk. Asbestos has been banned in Britain since 1999 but it still lurks in hundreds of thousands of buildings constructed before this date, meaning many people are being exposed today.
Death rates from mesothelioma in Lincolnshire have risen sharply in the past few decades. Between 2011 and 2015, the most recent available figures, 161 people in the county died from the disease – up from 14 between 1981 and 1985.
After his presentation, Mr Baker, who worked as a civil and structural engineer before moving into health and safety, said: "It was good to have the opportunity to talk to the young tradespeople about the risks of asbestos. They are in a group who are at high risk of exposure, so it is crucial they are aware of this and how they can protect themselves. Asbestos is a killer, but no one should have their life cut short by work. Workers need to ask whether any site they are on has asbestos and also how they are being protected."
The students said they were shocked by what they heard in the presentation, adding they are now armed with information about how they can protect themselves.
Megan Daniel, 17, a Carpentry student, said: "I got a lot of information on what to watch out for and how to keep myself and others safe. I was surprised about how tiny the fibres are and the damage they can cause."
Ryan Ribbans, 18, a Bricklaying student, said: "At first I didn't know what asbestos is, so this really brought it home to me. It is shocking, too, how being exposed to tiny fibres can kill you."
Sergio Alfonso, Plumbing Lecturer at Boston College, said: "The presentation was particularly hard hitting for our students, who are the future of the industry. The most important thing is that students have an awareness of asbestos and the risks it presents. They are going to be working in buildings containing asbestos, so it is vital they are aware of that and there are measures in place to ensure they aren't exposed to fibres."
The talk at the college, on Tuesday 27 November, was the second which IOSH has arranged in Lincolnshire through its partnership with the Chartered Institute of Plumbing and Heating Engineers (CIPHE).
Through its No Time to Lose campaign, IOSH has produced a series of free resources for businesses and individuals to help them manage risks posed by carcinogens like asbestos. Visit www.notimetolose.org.uk for more information.
Words by IOSH