Free Leadership Training from Boston College – Boston Seeds
Boston Seeds – Demonstrating How to Make Best Use of Free Leadership Training from Boston College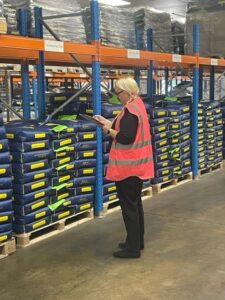 .
As part of the Skills Support for the Workforce Programme, Boston College has been able to offer free management training to regional employers who want to upskill their current employees to take on more responsibility and enhance their growth and productivity prospects.
The programme has been popular among progressive and fast-growing businesses who need their staff to grow with them and take on new roles or responsibilities. Boston Seeds is a perfect example – a growing local business of 14 people, with a turnover of £9m. They are currently the largest online supplier of grass seed and wildflower seeds in the UK. After speaking with the College's Employer Engagement Manager, George Bell, Boston Seeds immediately identified Aimee Waddington, an employee who had been earmarked for a new Operations Manager role and who would benefit from the programme.
Aimee initially enrolled on the ILM Level 2 Certificate in Leadership and Team Skills which reinforced her existing skills and understanding of leadership. She found the course relevant and already intends to move on to an ILM Level 3 Principles of Management course in the autumn.
Speaking of the training, George Wallis, Managing Director at Boston Seeds said, "The company directors were the only members of the business who had experience in management and leadership, which wasn't a suitable model to maintain the company growth. By attending the course, Aimee has benefited greatly and the training contributed to my decision to promote her to Operations Manager. The training was valuable as it supplements the in-house training and mentoring with more formal 'classroom' learning – we are looking to use it again for other staff members within the company."
If you would like to find out more about upskilling your workforce, contact the College's Business Development Team on 01205 313242 or email employers@boston.ac.uk.