Boston College's Mayflower Building Receives Planning Permission Approval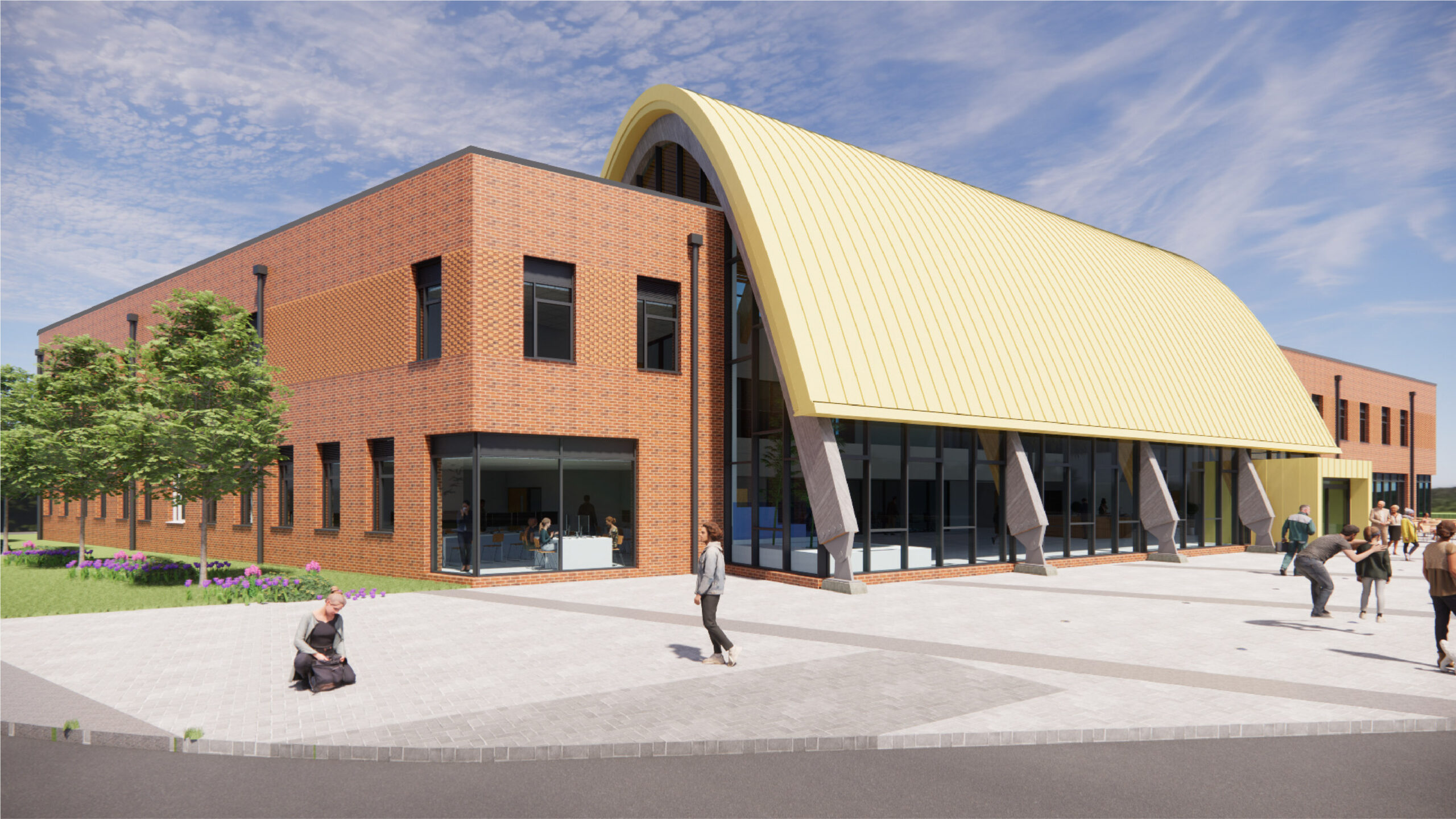 Boston College's new bespoke learning centre for young people and adults, Mayflower, has been granted planning approval by Boston Borough Council.
As part of the Boston Town Deal, the government approved Town Deal funding of £9.9million for the Mayflower, with the College committing to provide £725,000 in capital co-funding and £5,546,000 in revenue costs over five years. The Mayflower reimages the visual concept of a FE College, where botanical gardens will provide a haven from the elements and where the whole community will be able to find sanctuary, hope and future prosperity. The unique learning environment will include higher education, aimed at being inclusive, as well as enabling businesses and learners to connect, create and innovate together.
The Mayflower will be located on the site currently occupied by the College's Ingelow Centre on Rowley Road. To facilitate the build, the College's Foundation (Entry/SEND) learners who are based at the Ingelow Centre, will be moving into a newly refurbished building, based on the main Rochford Campus.
Speaking of the recently granted planning approval, Claire Foster, Boston College Principal and CEO said, "We are thrilled that planning permission for the iconic Mayflower, the flagship project of Boston's Towns Deal has been granted. The state-of-the-art facility will provide a shining beacon of aspiration for higher level and adult education at a time when our town needs it most."
As well as higher education, the open, welcoming and nature-filled Mayflower, will provide spaces for voluntary services, careers advice, health and wellbeing support, and opportunities for skills development. The flagship build will also be an instrumental contribution for the town's economic relaunch, tackling low aspirations and skills gaps through pioneering living and learning spaces enabling digital upskilling.
Following successful bidding, the College will also use capital funding from the Office for Students (OfS) to create a dedicated space within Mayflower which will reflect pedagogical approaches in higher education, promoting hybrid and self-directed learning, peer-led groups and enabling part-time flexible study.
Neil Kempster, Chair of Boston Town Deal, said, "It is fantastic news that planning consent has been granted for the Mayflower. This is a significant step towards creating a new, inspirational centre for learning in Boston. The Mayflower project has always been the flagship scheme within the Town Deal portfolio and it is brilliant news that it has taken a massive step forward with the grant of planning permission. We look forward to continuing to work with Boston College as they bring this important project to fruition, which will provide many more opportunities for local people to gain skills, knowledge and training."
Councillor Nigel Welton, Deputy Leader and Portfolio Holder for Economic Development and Planning, said, "We are delighted that Boston College have been given the green light with the Mayflower development. This project is going to be a key addition to the Boston College campus and is set to significantly improve adult learning in Boston and surrounding areas."
Construction work is due to commence on the Mayflower site in May 2023, with the iconic building opening to learners and members of the public in September 2024.
Note to Editors:
About Boston Town Deal
In 2021, Boston secured £21.9M in Town Deal funding from the government to deliver an ambitious vision that will level up Boston and bring transformational improvements.
The Boston Town Deal will make the town an exciting place to live, work, invest and visit for generations to come. It will support an aspirational, skilled, and healthy population. It will create sustainable economic growth. It will increase pride in place, and it will launch Boston into the future, building on its unique heritage.
It will achieve these outcomes through a range of projects – that have been shaped with public engagement – overseen by a board made up of private and public sector representatives.
Towns Fund – Town Deals
On 27 July 2019, the Prime Minister announced that the Towns Fund would support an initial 101 places across England to develop Town Deal proposals, to drive economic regeneration and deliver long-term economic and productivity growth.
A Town Deal is an agreement in principle between government, the Lead Council and the Town Deal Board. It sets out a vision and strategy for the town, and what each party agrees to do to achieve this vision.
See the 101 places being supported to develop Town Deals.
Each of the 101 towns selected to work towards a Town Deal also received accelerated funding last year for investment in capital projects that would have an immediate impact and help places "build back better" in the wake of Covid-19. View a list of accelerated funding by place towns-fund-accelerated-funding-grants.pdf (publishing.service.gov.uk)