Boston College named as Commended College in 2021 AoC Beacon Awards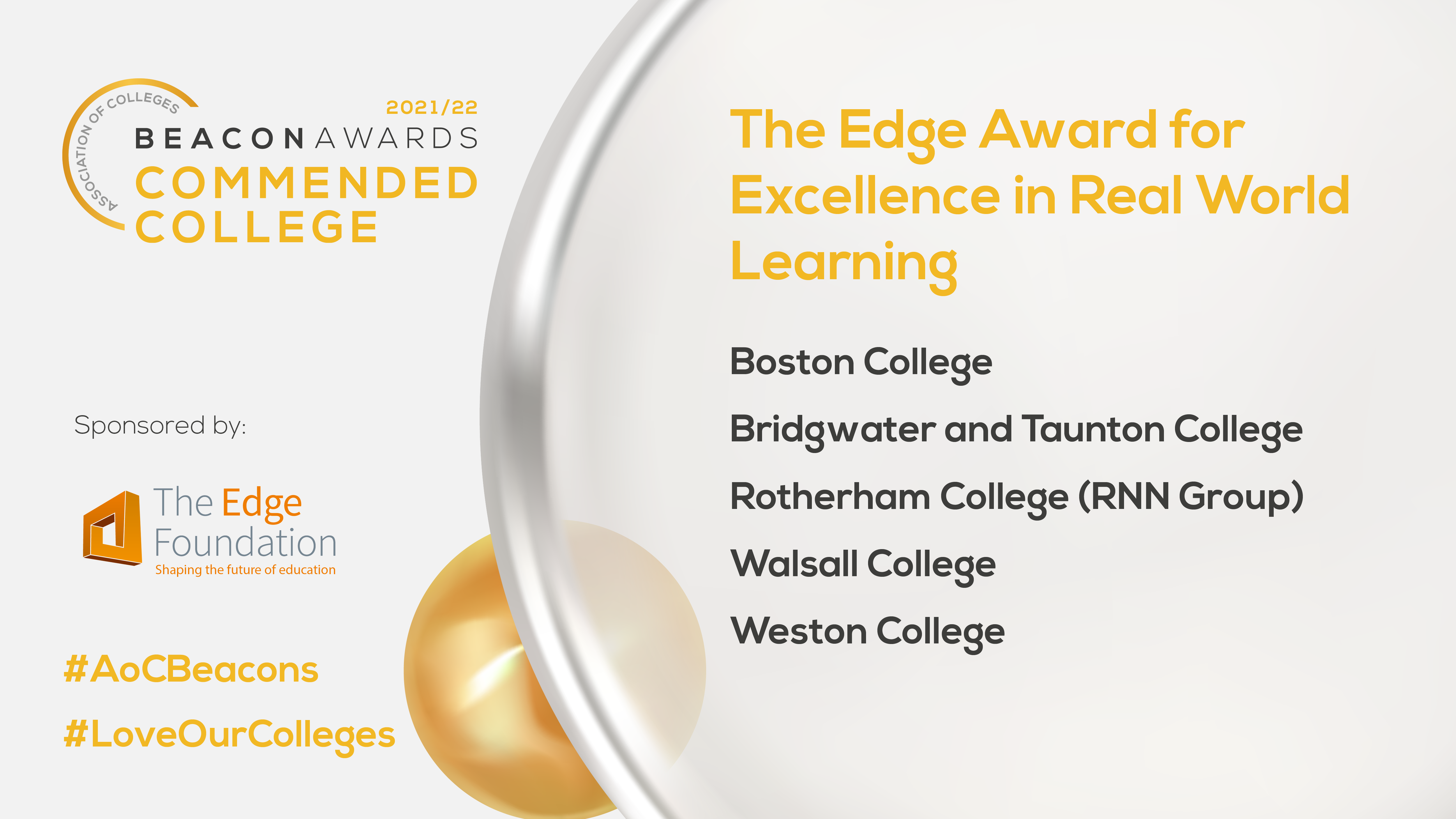 Boston College is excited to be named as a Commended College for the Edge Award for Excellence in Real World Learning in this year's AoC Beacon Awards 2021.  
The College has been commended for the 'Police Stop Search Scrutiny Panel', an original collaboration between the Uniformed Public Services department and the Lincolnshire Police. The project harnessed the power of diversity and maximised real-world experience by engaging learners in watching raw police bodycam footage as part of a formal reviewing panel. This reviewing panel gave both Lincolnshire Police and learners a unique insight into officers' engagement with communities, seeking out inequality and leading to real change at a time when police decision-making has never been more under the spotlight.
The 'Police Stop Search Scrutiny Panel' has also led to further enrichments to the curriculum, with the College and Lincolnshire Police building inexorable strong links based on trust and mutually high values. The panel has already been deemed as an outstanding practice and is now being rolled out as a national model.
The Association of Colleges (AoC) Beacon Awards celebrate the best and most innovative practice among UK further education colleges. The aim of the awards is to demonstrate and promote the far-reaching impact of colleges on their students and the communities they serve. The commended and winning case studies will be used to increase understanding of colleges' contribution to educational skills policy and economic and social development.
Speaking of the awards, Rachel Hunn, Boston College Curriculum Leader, said "We are absolutely thrilled that our collaboration with Lincolnshire Police has been successful in reaching the AOC Beacon Standard and Commended status. The opportunities for our learners to work alongside Officers and undertake Stop Search Scrutiny Panels has given them a unique experience and valuable insight into real-world policing whilst enriching our curriculum."
The award finalists will be announced at the AoC Annual Conference taking place on Wednesday 17th November. For more information, please visit,  collegeawards.co.uk/beacon-awards
UPDATE 17/11/2021: Boston College is incredibly proud to be named as a finalist in The Edge Foundation Award for Excellence in Real World Learning at the Association Of Colleges Beacon Awards