Annual Apprenticeship Awards Highlight Upcoming Stars in the Local Area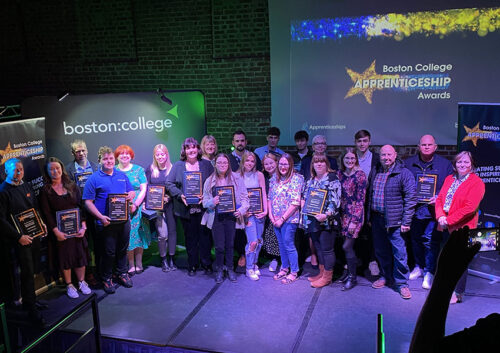 Following the theme of National Apprenticeship Week 2023, 'Skills for Life', Boston College held their annual Apprenticeship Awards ceremony to celebrate the achievements of their apprentices this week.
The Awards recognised the hard work and dedication of both the apprentices and their employers, who support them throughout their training. A variety of awards were presented, including best overall performance, and Outstanding Apprentice of the Year.
The event was proudly hosted by Boston College's Wendy Poole, Director of Learning: Adults and Apprenticeships. The Awards saw 11 deserving apprentices recognised for an Apprentice of the Year award for exceptional achievement and progress during their apprenticeship. The College currently trains 378 apprentices, making the achievements of these 11 nominees even more special.
The ceremony highlighted the importance of apprenticeships in providing individuals with valuable skills and training, while also benefiting businesses and the wider community. This was echoed by Katrina Pierce, Development Manager for the Federation of Small Business who spoke about the main benefits of being an apprentice, the progression opportunities and why she would recommend employing apprentices and the impact they make within small businesses.
Another highlight of the evening was the Employer Special Recognition Awards, sponsored by Lincolnshire Co-operative. The employers provide valuable apprenticeship opportunities in Boston, Spalding, and throughout the surrounding areas. Of the many employers the College works with, 10 were selected to receive special recognition awards celebrating their dedication to apprenticeships, with their awards being presented by Sara Barrett, Lincolnshire Co-operative Learning and Development Manager.
Speaking of the Awards, Nicola Irving, Boston College's Head of Apprentices said, "These awards are not only a testament to the commitment of Boston College in relation to apprenticeships, but also to that of our local employers. By working together to promote workforce development, a wide range of opportunities are provided to our learner's which enable them to achieve their career goals".
To close the awards, the Outstanding Apprentice of the Year Award was presented to Ryan Hobbs, who was ecstatic to take home the Plumbing Apprentice of the Year, as well as the Outstanding Apprentice of the Year award, with the following stated within his nomination, "Ryan has proved himself as a role model for his peers, displaying great attitude, willingness, and motivation to learn. This has been demonstrated whilst working on not only his main Plumbing Apprenticeship course, but also through the hard work and effort his has put into his maths studies."
Well done to all winners!
To find out more about Apprenticeships at Boston College, visit our Apprenticeship page, https://www.boston.ac.uk/apprenticeships/
This year's Apprentices of the Year are:
Outstanding Apprentice of the Year: Ryan Hobbs
Apprentice of the Year in Bricklaying: Kye Wilkinson
Highly Commended Apprentice in Bricklaying: John Holland
Apprentice of the Year in Business: Leah Ellerby
Highly Commended Apprentice in Business: Adam Edge
Apprentice of the Year in Customer Service: Ryan Skinner
Apprentice of the Year in Early Years and Schools: Chloe Spooner
Apprentice of the Year in Electrical: Daniel Mountain
Apprentice of the Year in Hairdressing: Eleanor Sorrell
Apprentice of the Year in Plumbing: Ryan Hobbs
Highly Commended Apprentice in Plumbing: Zac Lumley
Apprentice of the Year in Teaching: Tamsyn Chambers
Employer Awards
Employer new to Apprenticeships
Boston LGV Training
Coastal Electrical Services
Developing Employees through Apprenticeship Training
SJG Electrical
Aaron Services
Supporting Local Apprenticeships – Large Employer (250+ employees)
Tong Engineering Ltd
Turners (Soham) Ltd
Supporting Local Apprenticeships – Medium Employer (25- 249 employees)
Dexter & Sharpe
Tulip Academy, Spalding
Supporting Local Apprenticeships – Small Employer (1-24 employees)
Mark Allen Plumbing
Bearhugs Nursery, Horncastle