Lucky 10,000th for Chelsea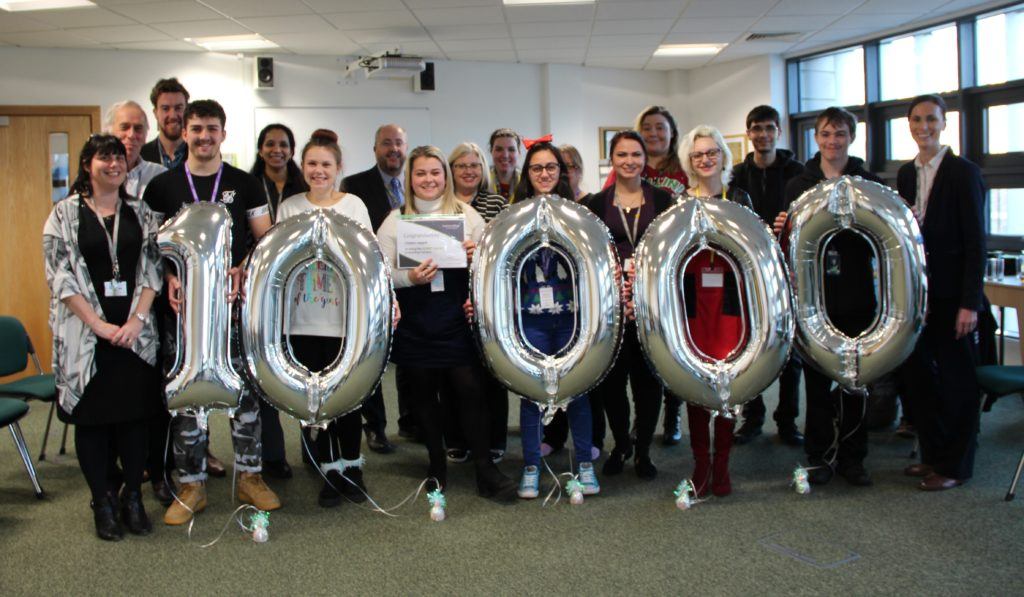 Staff and learners at Boston College's Spalding Campus celebrated reaching its milestone 10,000th learner this week.
The lucky 10,000th learner, Chelsea Leggatt, who is currently studying Access to Policing and Criminal Justice Studies at the College, received a voucher and certificate as part of a presentation held for the learners, staff and tenants.
The College's Spalding Campus is in its 8th year of providing quality education, and is continuously reviewing the needs of learners with dedication to provide them with the skills and qualifications needed for a successful future.
The number of learners undertaking and achieving new qualifications at the Spalding Campus has risen each year, with more adults, school leavers and employers taking opportunities to study on their doorstep since the campus opened in 2011.
There are currently over 70 courses in 14 different course areas including Accounting, Computing, Health and Social Care, Teaching, and not forgetting Hairdressing and Beauty Therapy in the on-site training salon, Style Academy.
Boston College Principal and Chief Executive, Jo Maher said, "The College is working hard to grow the adult and Higher Education provision in Spalding, to provide local people the opportunity to study. Our Access courses are some of many that we offer at the Spalding Campus, and are designed to help learners like Chelsea, aspire to achieve their dream career by providing a gateway to higher education."
After having her son, Chelsea decided she needed to provide her family the best opportunity she could, so after some deliberation and encouragement from staff at the College, she decided to take a leap of faith and enrol on the Access to Higher Education course.
Despite being a busy mum, and achieving a World Title in kickboxing for the 16-18 age group, Chelsea still finds time to study full time to achieve her qualification.
Rachel Hunn, Programme Area Manager for Access, added, "It was a strike of luck to be acknowledged as the Spalding Campus 10,000th learner, but for Chelsea, it is also a deserved celebration of her hard work and dedication. Chelsea is a determined learner who works hard to develop herself, and she is a highly committed member of the group. She is working well towards her goal to become a probation/prison officer and is looking forward to progressing to the HND in Public Services at the College."
Visit the Spalding Campus page to find out more about the courses and facilities available.