Celebrate Brilliant Student Success
Boston College students enjoyed celebrating another successful year at the College's Be Brilliant End of Year Learner Awards.
Staff from across the whole of the College nominated an overwhelming number of students against set criteria of 12 individual awards. Each award recognised the values that are instilled throughout the college including progression readiness, going the extra mile, adult skills progression and subject knowledge and skills, ending with the presentation of the 'Learner of the Year' award.
Each award recognised a winner and highly commended student in each category, giving the judging panel a very tough job of narrowing down the hundreds of entries to just 24. After much deliberation, the final list was complete and those selected students were personally invited to attend the Be Brilliant End of Year Learner Awards at the College's Sam Newsom Centre.
Not only were the students themselves immensely proud of the recognition they received for their effort and commitment, but they were also supported by proud family and friends, with some family members even flying in from abroad!
Vicki Locke, Boston College Vice Principal, Curriculum and Quality, said, "The Be Brilliant awards are the culmination of a year's worth of hard work from not only the learners but also the staff who support them. It truly is a team effort and it is wonderful to have a platform on which to celebrate it. All of our student's should be immensely proud of what they have achieved and never forget that they are brilliant!"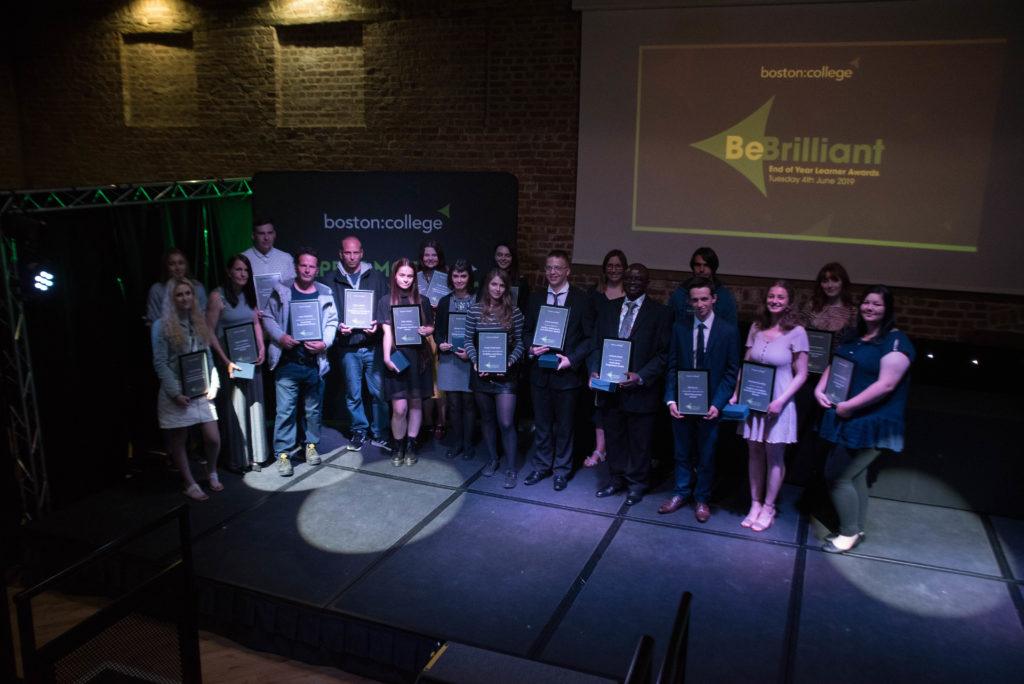 AWARD WINNERS
Subject Knowledge & Skills
Winner – Karen Wyles
Highly Commended – Daiva Svanaite
English & Maths Knowledge & Skills
Winner – Andreea Danaila
Highly Commended – Lewis Taylor
Work Placement
Winner – Thomas Phipps
Highly Commended – Ellis Brook
Higher Education
Winner – Paula Trollope
Highly Commended – Aleksandra Pacholska
Adult Skills Progression
Winner – Anthony Bolaji
Highly Commended – Jason Mayfield
Positive Behaviours & Attitudes
Winner – Jason Lambert
Highly Commended – Emily Fleming
Readiness to Contribute to Society
Winner – Robin Aldrich
Highly Commended – Aleksandra Pacholska
Progression Readiness
Winner – Kelly Gelder
Highly Commended – Jensen Kendall
Ambition & Drive
Winner – Joseph North
Highly Commended – Kinga Pruszynska
College Values
Winner – Raven-Marie Spurr
Highly Commended – Lauren Harrison
Going the Extra Mile
Winner – Aimee Quickfall
Highly Commended – Amy Wilkinson
Highly Commended – Nicola Hurst
Learner of the Year
Karen Wyles