Annual Apprenticeship Awards celebrates the future stars of today!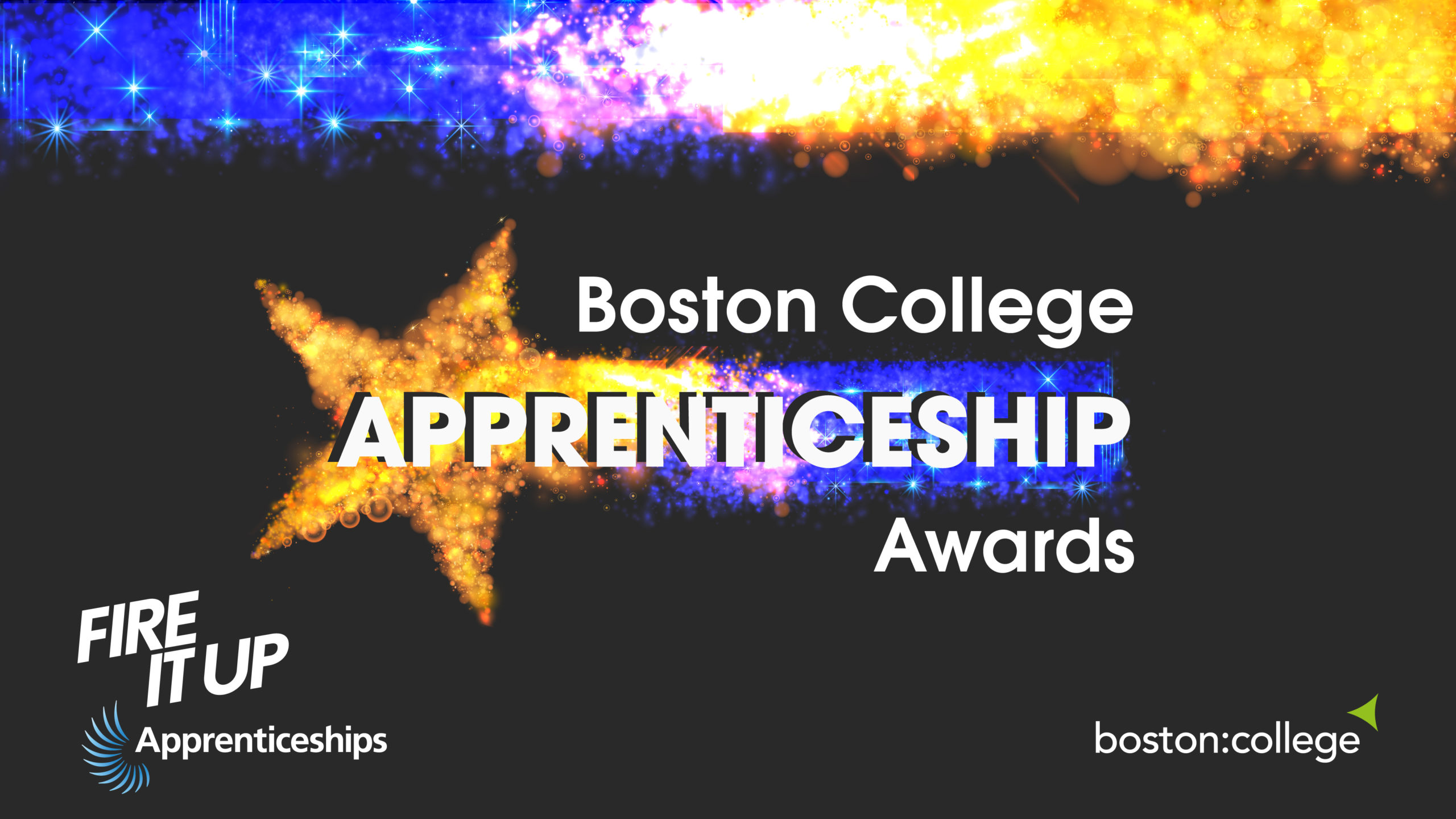 Employers and Apprentices alike celebrated last week after being recognised for their determination, dedication and motivation at Boston College's annual Apprenticeship Awards.
Something that not even a global pandemic could stop as the event moved virtually highlighting individuals and employers who continued to work throughout the past year as well as those who faced adversity but continued to shine.
Following the theme of National Apprenticeship Week, 'Build the Future', which is very appropriate in today's every changing employment landscape. The event celebrated how Boston College and employers work together to 'build the future' of both individuals and organisations.
With over 400 Apprentices currently studying at Boston College, covering a range of industry sectors, the event really was about celebrating the diversity of opportunity and value that apprenticeships bring to the country today.
Among the 12 individual Apprentice of the Year awards and 13 Employer Special Recognition awards, the event concluded with the award for the Outstanding Apprentice of the Year, awarded this year to Charlotte Key for her overall quality of work, exam success, practical skills and efficiency shown in the workplace.
Charlotte's employer stated within their nomination "I can't speak highly enough of Charlotte, for someone so young they demonstrate excellent ability on everything they do. Providing excellent chairside nursing which is admirable considering the additional PPE that has to be worn in the surgery. Their digital media skills are put to use running our Instagram and Facebook pages and they are so helpful for us all with their technical skills. I am in awe of their abilities, attitude and capabilities we are so lucky to have them in our surgery."
This year's Boston College Apprenticeship Award winners are:
Accounting Apprentice of the Year – Elizabeth Hallissey
Business Apprentice of the Year – Leo Blockley
Carpentry and Joinery Apprentice of the Year – Drew Chamberlain
Computing Apprentice of the Year – Joseph Scorthorne
Customer Service Apprentice of the Year – Hollie Dawnson
Dental Nursing Apprentice of the Year – Charlotte Key
Early Years and Schools Apprentice of the Year – Phoebe-Louise Hemmings
Electrical Apprentice of the Year – Gintare Gudinaite
Hairdressing Apprentice of the Year – Mia Fairweather
Health and Social Care Apprentice of the Year – Charlotte Snell
Motor Vehicle Apprentice of the Year – Oliver Payling
Plumbing Apprentice of the Year – Kai Robinson
Supporting Teaching and Learning in Schools Apprentice of the Year – Heather Walker
Outstanding Apprentice of the Year: Charlotte Key
Employer New to Apprenticeships: Sleaford Smiles and The Private Dental Centre
Developing Employees through Apprenticeship Training: Tanglewood Care Services Ltd, Platform Housing Group and VASS Service Centre.
Supporting Local Apprentices (Small Employer – 1 to 24 employees): HS Physiotherapy, Little Goslings, Highgate Nursery and Brett Eastick – SawBox Joinery
Supporting Local Apprentices (Medium Employer – 25 to 249 employees): The John Fielding School, The Garth School and Marisco Medical Practice
Supporting Local Apprentices (Large Employer – 250+ employees): Duncan & Toplis
Go back...