Andy Chan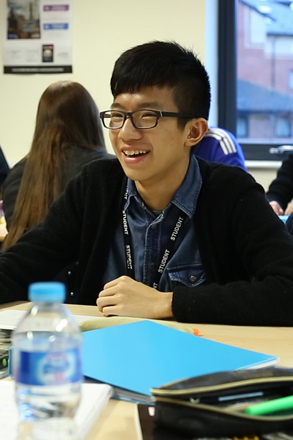 I heard about Boston College from my brother, Andrew, he was a student here 7 years ago. He said Boston College provided a perfect environment to study. Teachers and staff are friendly and helpful. Furthermore, you can also find what you need in the town too.
In my first year I took IGCSE English, this helped me adapt to the English culture and to speak fluently. In my second year I took my IELTS, my teacher was really friendly and supportive. The lessons really prepared me for the exam. The College provides English and Maths support though the Lab which can be found in the College Library.
Before I arrived, I was worried about my English accent and getting used to the British culture. With the support I received and the friends I made I found there was nothing to worry about. I was also worried about having my lessons delivered in English, but in fact, this was not a problem. Teachers would explain patiently when there were any language barriers.
During my time at the College, I had a chance to analyse my free time and to choose what I wanted to do in my spare time. I joined a local kickboxing club which was held at the sports centre. Also, cycling has become part of my life now. It is an easy way to travel around the town. I joined the trips package last year. The one I enjoyed most was the trip to Edinburgh. We stayed there for three days. Edinburgh is a nice historic city. Also, through the year there will be a variety of trips which are inexpensive and fun. Boston College provides a great range of different courses which would definitely fit your interests. Additionally, you can find helpful information and resourceful materials to suit everyone which help with coursework and after school study.
My tutor, Orla, she is very friendly and helpful. She is more like a friend than a teacher. She shared her experience of University and now I am more confident in what I am going to face.
People living in the Hall of Residence are like a big family; you hang out and take care of each other. It is so easy and convenient to visit your friends because they are just right next door. Other than that, the common room is a great place for you to chill with your friends, I always felt very safe.
The best thing about Boston College is the friendly environment and students call teachers by their first names. This really improves the teacher-student relationship. We can ask questions when we need to and I think that is important. I would recommend Boston College because you will meet friends from different countries and find the perfect environment to study. I am going to university in September in the UK and plan to explore more of the world which I am really looking forward to. "